Tombola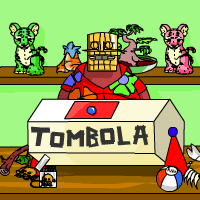 The
Tombola
is one of the Daily Clicks and it's very easy to play! The Tombola is located on the Mystery Island and you can win several prizes there.
You can only play once a day. Just click on "Play Tombola" and you will get a ticket. If your ticket ends in 0, 2 or 5, you are a winner! If you don't get a ticket that ends with either of those numbers, you can win a consolation prize, but it depends on the mood (and the money) of the Tombola guy.
Consolation Awards




The above prizes are consolation.
They are not worth more than 10 NPs and are also not very useful ...
Winners' Prizes




If you are a winner, you can receive a
Bottled Fairy
.
They are Articles that can give Skills to your Pets.



It is also possible to receive
Haunted Food
.
They are common in Tombola and are also not worth much.



Another prize are
Codestones
. The stones are used to pay for the courses at the
Mystery Island Training School
!
There are certain times when the Tombola is closed. At 03:00, 04:00, 13:00, 14:00, 19:00 and 22:00 NST or when he runs out of money. When he has no money, Tombola asks for a small donation in order to be able to reopen.
The Tombola is free! Get your ticket right away and Good Luck!